Core cycling, Hackney, Core arts, Adults with mental health problems, 2014 , £ 3000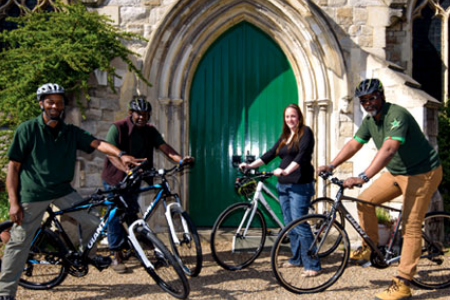 Core Arts is a community led organisation based in Hackney. It works to support people with mental health problems, increasing wellbeing, participation and integration.

Core Cycling aims to empower and equip disadvantaged and vulnerable adults, for whom cycling is limited, due to their situation and medication. The project gives access to bikes and training in small supported groups,ecouraging participants to use their local parks as a safe means of cycling. Through creating positive cycling experiences the project aimed to encourage cycling as a means of transport and a way to improve participants' health.

Six coached group sport sessions were delivered by qualified coaches from Cycling Club Hackney, their partner sports club, eventually leading to two short trips to the road track in Lee Valley Velopark. The grant was also used to purchase a pool of 10 bikes, to be kept at the Core Arts Centre. These are now available for general hire, accessible to 380 vulnerable and disabled students per year, but also for use in sessions, as well as for staff and volunteers. The project plans to introduce coached road safety sessions in the future, having seen that on-road cycling is what participants are most anxious about.

The grant has supported the development of an ongoing cycling project, which will be an integral part of Core Arts' new sports unit. Core Arts have secured funding from The London Borough of Hackney and Hackney Clinical Commissioning group.