Cycle Together, Barnet, Axis Educational Trust, Deprived, low income families, 2017 , £ 10000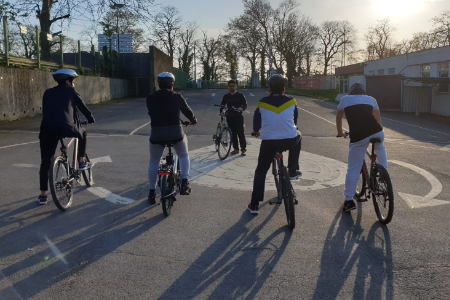 Cycle Together is run by the Axis Educational Trust, a charity which aims to provide high quality, supplementary education to primary and secondary school pupils in the UK. The Cycle Together programme is run from its Hendon branch in Barnet, North London, with the aim to encourage disadvantaged families around Barnet to incorporate cycling into their daily lives confidently and safely.
Cycle Together has purchased twenty bicycles and five e-bikes through funding from TfL's Cycling Grants London. Alongside the bikes, funding has also been used to support two hours of safe cycling training (theory and practice) per participant. The sessions are run by qualified instructors and volunteers, and suitable participants have the opportunity to train as ride leaders, assisting instructors in delivering the project. There is also an affordable bicycle hire option for community members, which can be used on days when the programme isn't running.
The programme addresses many of the issues facing Barnet families in terms of: access to cycling, fear of traffic, affordability, lack of fitness, storage and maintenance of bikes. Through TfL and Cycling Grants London, Cycle Together now has a stock of bikes and e-bikes which they can store, and funding for maintenance workshops and cycle training.
With the aim of project continuity, during years two and three bikes and helmets will be available forhire by the over-sixteenswho have taken part in training.It is also envisaged that a network of volunteers will be established allowing the sessions to continue.