Kids on Wheels Croydon, Croydon, Wheels for Wellbeing, Youth, health problems, disabled children aged 2-18 in the London Borough of Croydon, 2017 , £ 9969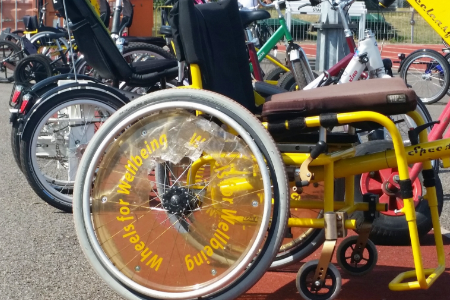 Wheels for Wellbeing are an award-winning charity for disabled people. The charity was founded in order to enhance the lives of disabled people of all ages, by ensuring that anyone can access the physical, mental, practical, social and emotional benefits of cycling. The organisation provide direct support to more than 100 disabled people a year, helping individuals to discover (or rediscover) cycling through drop-in and outreach sessions.
As part of Wheels for Wellbeing, Kids On Wheels Croydon is a project which aims to bring cycling opportunities to disabled children and young people in Croydon. The project does this by holding free sessions for children who never thought they would have been able to cycle before.
Kids On Wheels Croydon offer a safe space for children with disabilities and impairments - or no impairments - to exercise through cycling with specialist bikes. The sessions are inclusive and uncompetitive, designed to simply allow participants to have a good time. The children would normally find it difficult to cycle on regular bikes, which can have a negative effect on their physical and mental wellbeing. However, this Croydon project offers a range of specialist bicycles so that the whole family can take part, and not just the disabled participants, meaning families are brought together as part of the exercise sessions.
Rohit Gill, the father of a participant said: "Through this project my son has done so well. I never thought he would be able to ride a bike. Over the years, seeing him being able to ride a bike has just been brilliant. It's liberated him, given him a sense of freedom. I'm not healthy, but taking my son here means we get to cycle together. I never used to cycle, but this project has made me really like it.''
The funding received from Cycling Grants London has allowed Kids On Wheels Croydon to purchase more bicycles, helping them to: cater for children of all ages, engage with local organisations to ensure the sessions are as targeted and as effective as possible, and to deliver 18 inclusive cycling sessions at Croydon Sports Arena during the school holidays. With the purchase of the new specialist bicycles, they can also tailor the sessions to more individuals. There are currently approximately 50 children and family members who attend.
In developing for the future, the staff are very motivated and committed to the project. They would ideally like to roll out the sessions so that they are available all year round, as at the moment they only take place during school holidays. They would also like to receive three, four or even five times the number of participants.
When asked what advice they would offer for anybody wanting to start a similar project, they recommended planning your project thoroughly, trying to connect with the right contacts, and establishing a well thought-out budget and getting all the right figures in place.
A Project Instructor said: ''The best part is seeing that things are running really well, listening to the people that have benefited, and seeing them doing the exercise, which is sometimes the only exercise they can do.''