Respoke – becontree cycle centre, Barking and Dagenham, Trailnet, BAME, low income, children, young people, women, 2017 , £ 9012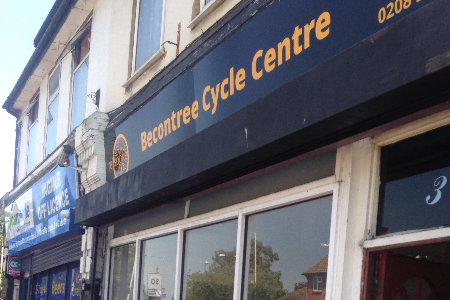 Becontree Cycle Centre is the successor to the Gascoigne Cycle Centre which Trailnet ran near Barking for a number of years. The Gascoigne Cycle Centre previously received funding from Cycling Grants London, and this year the group have received funding to move premises to Becontree.
The Centre reconditions donated and discarded bikes and prepares them for sale at reduced prices. These bikes are also used for bike building training. Where bikes received by the centre are not usable, all working parts of an appropriate standard are salvaged and reconditioned. This manner of sourcing bikes and parts allows the Centre to provide bikes and repairs for much less than traditional bike shops.
The Cycle Centre is a community focused cycle shop and resource. It aims to make bike ownership affordable and overcome barriers to cycling the community face, particularly those relating to the cost of cycling. It does this through providing low cost cycles, repairs and training for customers, to assist them in cycling more frequently and with safe equipment.
Where customers may not have financial resources for such repairs, they are often given the option to 'earn' their repair by assisting the mechanics in carrying it out. The Centre has offered alternative payment methods, such as paying for a bike in instalments. This can makesaving for a bike a bit easier, which is particularly suitable for children.
The group have used a range of publicity to promote the new Cycle Centre. This includes flyers, business card, word of mouth and digital. The group have also found that customers from the previous location in Gascoigne have followed them to their new location. The new location is also more visible than previously, situated near Becontree underground station and so able to catch more passing trade.
Over the summer and coming years the Centre hopes to expand its customer base due to growing numbers of people cycling during the warmer months and increased awareness amongst the public. Where there is demand, the Centre would look to open for longer days, enabling people to drop bikes off for repair before work and pick them up on their way home. The Centre has also had interest from individuals about organising rides, particularly for families. It intends to organise rides in the local area later on this year.