Velociposse Cycling Club, Hackney, Velociposse Cycling Club, Women, LGBT women, BAME women, women from low-income backgrounds, 2017 , £ 9900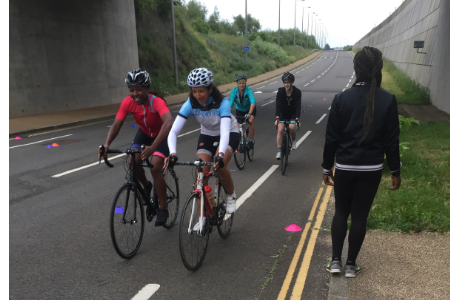 Velociposse is a London women's cycling club for riding, racing, training and socialising. They run road rides, fixed gear races, road races, and indoor and outdoor track racing. The club was created two years ago with the intention to create a positive and supportive environment for women to ride fast and have fun, both on the track and on the road.
Velocipossse want to help encourage more women to cycle with regularity and confidence, whatever their starting point, as women are still underrepresented among cyclists. They are a small women-only cycling club, with a focus on improving confidence and skills through training, teamwork and mutual support. The club champions a supporting, friendly and encouraging atmosphere, helping women to feel confident in the absolute basics of cycling. This includes learning how to use bicycle gears properly, trying out clipless pedals and advice on comfort and hygiene.
The club currently has 60 members, and the women who attend vary in age range - the youngest being 22 and the eldest 45. The group averages at around six people per session, and these sessions take place at locations such as: the Lee Valley Velopark and inside its Velodrome, a closed section of road next to the Velopark, Herne Hill Velodrome, and organised rides based on a 40-60km loop heading out of the Velopark towards Epping Forest.
Velociposse has a core group of members who are passionate about women's cycling and are dedicated to helping more women cycle whether it is for commuting, racing, bike-packing or a host of other cycling disciplines.
When asked for advice for anyone wanting to start a bike project, they said that if you want to develop a group, then make sure that it has personality and is welcoming to all newcomers. Keep the group fun and talk about it to everybody you speak with, as this is the best way of spreading the word about your project.
For the future, the group aims to engage with even more LGBT, BAME and low-income women. This is something they already do (they have a high number of LGBT members) and higher than average percentage of BAME members, but they would like this to go even further.
There is currently a committee group in place who delivers the project and who are passionate about women's cycling. These individuals will monitor club attendance and engagement with registers, regular feedback and online surveys, ensuring that they continue to support and inspire their members.
One woman from the club is now racing at national events. As a beginner, the club could see she had a natural talent for cycling. Members helped her to grow this skill, and now she is a true racer after only one year with Velociposse!
Jessica Hayes, Club Chair, said: "We're all about having fun, being really supportive to each other and helping our members discover the thrill of doing things that they didn't think they could. For some, that means learning to ride with clipless pedals and feeling confident enough to go on a long ride. For others, it means racing local track and road events, or even national events. Whatever levels of skill and experience, all women are welcome to join us."
Participant: "I can't wait to get going, this is my first session. My friend told me all about Velociposse. I checked it out on Instagram and now I'm here!"