Kids on wheels, Lewisham, Wheels for wellbeing, 3 to 18 year olds with learning, emotional or physical disabilities , 2016 , £ 9996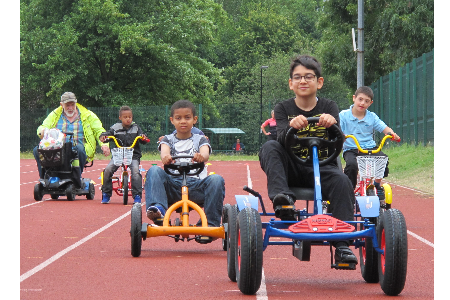 Wheels for Wellbeing have been providing cycling opportunities for those who do not have ready access to sports for a number of years now. This has involved people of all ages.

This project has been specifically aimed at children between 3 and 18 with physical, mental and learning disabilities. Whilst the organisation held a fleet of specialist bikes in Lewisham, these were not specific to the needs of children of all ages. The grant enabled them to build a stock of bikes that were appropriate for children from the ages of 3, taking account of their varying heights and abilities.

With the fleet of specialist bikes in place, the group led a number of cycling sessions at Ladywell. These were held both inside and outside, appropriate to the participants and the settings in which they are comfortable riding. With a very high take up, the group often had last minute bookings, due too the nature of many participant conditions.

The sessions instilled a greater sense of confidence and sociability in the children who took part. Those who often did not communicate frequently or easily with others chatted away and shared the enjoyment of cycling. Children also self-regulated their use of the bikes, ensuring within that group that each had a turn on the different cycles available.

Families and carers of the participants also took part, with siblings enjoying a rare opportunity to cycle together in a controlled environment. The feedback was unanimous – they became more aware of the abilities of those they cared for, and that cycling is accessible to all.

Over future years of the project the group hope to increase the number of sessions available, and the ability to accommodate for last minute or on the day participants. The improved stock of specialist bikes for children has made this increase in capacity possible.